Question:
Where are the best places to do some shopping in China? I am primarily thinking of buying fake brand clothes such as Gucci, Armani, Louis Vuitton, etc.
And where do I buy the cheapest electronics (camera batteries, chargers etc.?)? Any places where they actually speak proper English?
Answer:
First of all; I would not buy any of the fake brand clothes. The quality on most of them are so bad that it would get broken within the first month. Seriously.
There are a lot of places selling electronics in Shanghai, but I would not call these markets "fake markets" as they often sell old and used electronics.
The only thing that worth buying in China are custom sewn clothes (dresses, pants, suits, etc.). The rest is kind of expensive. If you buy a couple of fake Adidas shoes on the fake market for 200 RMB, I can almost guarantee you that they will get broken within a couple of weeks. If you buy real ones for 800-1000 RMB, they can last "forever" if you treat them OK.
Best electronics market in Shanghai
Anyway. The best electronics market in Shanghai is to be found here:
500=526 Qiujiang Lu,
near Sichuan Bei Lu
虬江路500-526号, 近四川北路
A great market with more than hundred different shops that sell everything you would wish for. I bought my computer screen at this market just a couple of weeks ago and it still works perfectly. But you have to
be aware that they might think western tourists/expats do have a very generous approach when it comes to the price. You have to negotiate unless you want to be ripped off.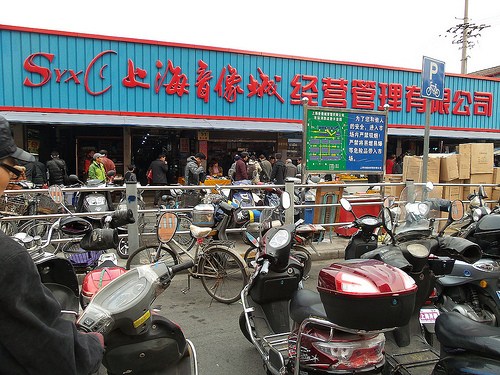 Best fake market (clothes) in Shanghai
Nanjing Xi Lu (Nanjing west road) 580.
Just a huge five floor market with everything you could wish for – and some more. But, as I have written earlier, the quality is pretty bad and I would really not recommend to spend a lot of money here.
Also be aware of the annoying and aggressive sales women that advertise with "special prizes" and gives you compliments just to sell their overpriced t-shirts to foreign tourists.