By Yoran Beisher

By 1930, Shanghai was a bustling cosmopolitan city with a foreign population approaching 70,000, close to the number of registered foreigners who now live here. It held one of the busiest ports in the world, as it does today, and became the center for business in Asia. Money was pouring in, brought along with crates of opium, and times, to say the least, were booming.This influx of multi-nationals brought with them not only investment of silver medallions, but more importantly, new ideas and a new way of life and living unlike anything China had experienced in the past. With walls and check posts set up around concessions, architecturally, the city changed dramatically, with an unprecedented rush of British architecture lining the Bund, and trickles of French, Russian, American and German architecture running through the concessions. Hyped as the 'Paris of the East,' Shanghai was the place to be in the thirties, and as word spread more and more people descended to Shanghai.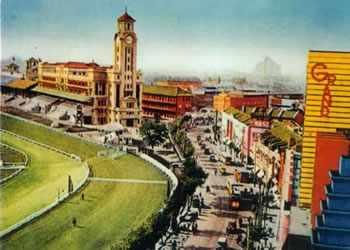 As more and more people arrived, places to live, work and play all competed for space as property developments took off, much like today.According to Tess Johnson, a well-known historian focusing on foreign architecture in China, "Shanghai has the largest array of Art Deco edifices of any city in the world."Much of this was inspired by New York City, which, during the twenties, stood as the most aspiring and sought-after look of urban cities of the time. The Rockefeller Center, the Empire State Building and other art-deco buildings were the prototypes that American architects pitched on a smaller scale in Shanghai, and references are still made today about the similarities between these two cities.
As with Shanghai today, wealth and grandeur were the look developers were going after, and much of what was built followed this style. For 20 years this raged on, transforming a small shipping port in China to one of the largest business hubs in Asia. Along the way, many people and places emerged that left a legacy of famous people and places in its wake. Many of these places still exist today.
If you have a moment, or want to buy an old house in Shanghai, please check out http://www.space.sh.cn. Along with Graham Earnshaw of Sinomedia, a huge collection of stories and pictures of the 1930s in Shanghai can be found. Art deco hotels, famous singers and a time goneby fill this section of the site.