Description
Ambassy Court consists of three towers who are risen in the heart of the Former French Concession in Shanghai. The building process was completed in 2001 and the compound has been a popular one among expats ever since.
The towers offers full-serviced apartments with a professional management staff that provides everything from security to cleaning ("ayi").
This part of The Former French Concession has a walking distance to a lot of popular spots such as bars, cafes and restaurants. A great choice for those who wnats to live a western lifestyle in Shanghai. The rooms are fully furnished with high quality furniture.
Facilities
Indoor swimming pool
Basketball court
24-hour management and security
Spa and sauna
International TV channels
Outdoor area
Apartment types
Two bedroom apartments
Square meters available: 100-120
Price per month: 18,000-25,000 ¥
Three bedroom apartments
Square meters available: 139-230
Price per month: ,25000-33,000 ¥
Gallery
Map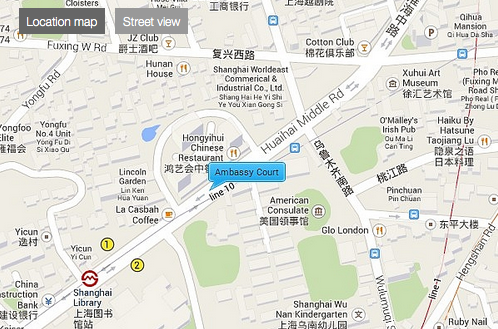 Contact us to get an apartment in this compound