Xintiandi is a peculiar area of Shanghai. Just walking around there, you will find a set of old houses, called "shikumen" restored to house restaurants, cafes and shops for the high society of the city. Shikimen is called lanehouse by expats who has been living in shanghai over years.
Xintiandi at Puxi side is one of the most popular residential areas in Shanghai. What is more, you cannot miss the house-museum of the First Congress of the Chinese Communist Party and the "Shikumen", both in this area.
Shops and restaurants in Xintiandi Shanghai…
Xintiandi is one of the most visited neighborhoods by tourists in the city. It is considered the best residential area to live and rent an apartment for foreigners.
This is due to its large number of businesses and shopping, among others.
The zone is situated quite close to the French Concession area and you can see from an Adolfo Dominguez store to Italian, Thai, German … terraces (which are not as common as in the streets in Europe), and stores wine or crafts. If you miss any tasty dish from your country, just come here and you will find it easily.
Along the surrounding area some interesting fashion stores are located, where you can buy the latest in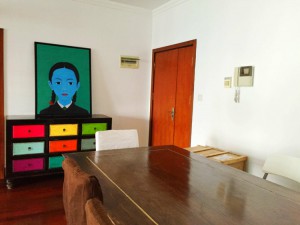 sports, t-shirts or bags of alternative brands.
Shopping malls and excellent bars and restaurants along Huaihai Middle makes it one of the main areas for living in the city center. Xintiandi itself is a complex of shops and restaurants established by one of the larger building speculators Hong ON Shui Kong Group.
There you can also find the Jackie Chan's restaurant, known for his minimalist zen style … and their high prices. Anyway, is a good place to spend an afternoon or evening, remembering that it is one of the most expensive places in Shanghai. However, if you are the person that has a hole in your pocket, Xintiandi is the perfect area for you.
No doubt is an excellent choice for expats who rent apartment in this area.
Nightlife in Xintiandi as expat…
Xintiandi has an active nightlife on weekdays as well as weekends, though romantic atmosphere is more common than loud music and dance places. It is considered one of the first lifestyle centers in China.
Many of the restaurants and bars do not open until later in the day, so if you arrive early, the place is deserted. If you arrive in the afternoon, many of the outdoor cafes offer a terrace, which creates a good opportunity to relax after a day of sightseeing, and allows you to avoid the crowds later in the evening. Xintiandi is popular throughout the year for Chinese and expats.
Living in Xintiandi shanghai as an expat….
The area around Xintiandi has seen the influx of large number of complex high towers of luxury apartments in recent years but also Individual reconstructed houses. The complexes are popular among expats who living in Shanghai and 50% of the apartment rent to expats in shanghai
Today, I was fortunate enough to visit one flat in this area. It was in the 18th floor of a luxurious complex. The first feeling when I entered there was a sense of peace in the center of Shanghai. The living room spreads over two levels featuring a double height space. 3 double room, one of them with a private bathroom. The entire apartment was decorated with white furniture.
The most awesome thing was the breathtaking views from one of the balconies. You can see Shanghai in your feet.
Some advantages for expats of living in Xintiandi:
One of the most prestigious locations in the city.
Many recreational facilities and nightlife.
Public transport very comfortable with 2 subway lines.
Easy access to the new Pudong crossing Fuxing tunnel.
Disadvantages for expats of living in Xintiandi:
The street traffic can be extremely crowded.
Xintiandi is considered a high-budget area.
Relatively few green areas.
Very noisy especially at weekends.
Talking a little bit about history in Xintiandi, Shanghai…
"Shikumen" lane house were very popular in Shanghai in the 1860s, and consists of stone houses that line narrow cobbled streets. They were known for their covers of solid stone with stone lintels demarcation large driveway. Throughout the 1920s, were common residential houses in Shanghai. A small museum is located in the heart of Xintiandi, so it is very advisable if you want to learn more about the traditional houses.
The area was sponsored by Shui On Land during the renovation of its surroundings. Some houses in Xintiandi were then restricted (and were not renewed) for containing an art gallery, cafes and restaurants. Many domestic and foreign tours visit Xintiandi as one of the main attractions of Shanghai.
Renewing Xintiandi was designed by Benjamin T. Wood and Nikken Sekkei International. This urban renewal is considered one of the first examples of placemaking in China.
This renewal displaced 3500 families in Shanghai.
First National Congress of the Chinese Communist Party in a lanehouse shanghai…
One of the oldest brick houses in Xintiandi neighborhood, now a museum, was the place where the First National Congress of the Chinese Communist Party was held.
You can take a tour inside the room where Mao Zedong and his delegates from around all China gathered in 1921 to found the Chinese Communist Party. In the expo, you can view photos of the participants, which were the base of the party, or the agenda which was followed during the congress.
The home visit is free and well worth it.
If your goal is to experience the traditional Chinese culture, Xintiandi probably will not be on top of your list of "must". However, if you want to see how China's urban centers like Shanghai are evolving in the fashion style world hot spots as New York's Soho and Lan Kwai Fong in Hong Kong, Xintiandi is the perfect place to go. So, there is no doubt on renting a new apartment here.