When it comes to finding the perfect apartment for you and or your family you will most likely face various questions…
If you are at the point of knowing which area is most suitable for you, in this area happens to be Lujiazui-Pudong, then you are reading the right article. Since your hard requirments might be answered by more than only one compound, you can find some detailed information below about two of the most famous compounds in Lujiazui CBD area.
Both compounds share quite a few facts, but lets start with the more unique points for each in hope to make the desicion of choosing one of these compounds easier.
Rumors have it that western families often favour Yanlord Garden over Shimao Riviera. Lets see what Yanlord can provide to your children.
Yanlord Garden buildings create an inner circle, giving the whole compound area space for larger gardens and excellent outdoor playgrounds for children. Furthermore children can find a huge range of extra classes for their entertainment and a kindergarten. Except for the huge garden areas, Shimao is lacking behind in these points.
But how about the adults?
The general outdoor-atmosphere is somewhat more charming due to the rellative small amount of low-rise buildings wich in comparison to the Shimao ones look a bit out fashioned but architecturally more interesting. The buildings in the Shimao Compound are placed in one line, though they are more modern. Shimao and Yanlord both provide clubhouses with various sport facilities, gym and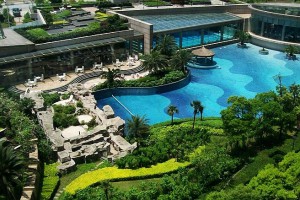 indoor/outdoor pools. While the Shimao clubhouses and outdoor beach are larger in size, they also provide more opportunities. Nevertheless, both compound facilities are well maintained.
While the Shimao Riviera Garden apartments are generally more spacious, the Yanlord Garden apartments usually come along with at least one balcony. Balconies are rather rare in the Shimao Compound and if found, they usually face to the east. Still, Shimao apartments can provide an outstanding 180 degree panorama view over the Huangpu River up to the Bund. Considering the building height of the Yanlord apartments, only a few apartment can enjoy an unblocked river view.
If it comes to public transportation other than cabs Yanlord is definitly making up for the sometimes rather limited river view. Yanlord Garden enjoys easier access to the CBD, metro line 2 (Dongchang Road) and 9 (Shangcheng Road), shopping malls and the ferry crossing. On the other side, Shimao Riviera enjoys a closer walk to international restaurant and shops on Weifang Road and only needs a 10 minute walk to the Ba Bei Ban area, which has a large grocery store and 5 malls.
Both Compounds share some very important points. So are the apartments equipped with a proper cooling/heating system, good and english speaking service and both compounds enjoy a slightly better air quality and a quieter envoironment. Both compounds are pick up/drop off points for the international school like Concordia. Located in Lujiazui, expat can not only find western in style apartments but also more western prices.