Renting an apartment in Shanghai can be a daunting thing. In a city of 23 million there is a massive choice of location and building type. Obviously if you have children you will need a lot of space, but what about proximity to International Schools, Kindergardens. Then again what about the Commute? Are you going to live beside Metro line 4 and work at Metro line 7? what is the line transfer like? With so many different things going on it is easy to get stressed! So here are our Top Tips:
View Each apartment
This might seem like a no brainer but you would be surprised how many people slip up on the basics. When looking for an apartment to rent in Shanghai there is no doubt you will have to shortlist selected properties from all that is out there. So whether you have a list of Lane Houses, Villas or apartments make sure you see them all. There is always time to go back but pictures are often misleading, don't stick with one and forget about the rest especially if it is one of the first you've viewed.
Ask Questions first
Don't get sweet talked into a bad deal. After all agents and landlords are business people, their main business is maximum profit. Ask about hidden fees, utilities, property management etc. Do not be afraid to push if they are telling you "everything will be fine".
Test out your routes
Just like any good bank robber do a test run. Make sure that your commute or school run is entirely manageable. This is important especially with busy Metro lines, troublesome line changes and busy rush hour traffic. Just don't actually rob any banks!
Check Quality
You might think everything is great and perfect but you really need to check all appliances and lights etc. You don't want to see a beautiful bright apartment only to find out that the fuses have gone and you will need candles to finish your favorite novel! This is also applicable to kitchen appliances and Hi Fi systems etc.
Visit at Night
The difference can be stark between night and day in Shanghai. Is your area well lit? What about night clubs and students. You don't want to move in thinking your area is quiet and leafy only to find out it is a notorious student night spot with loud music.
Building Types
Renting in Shanghai is great, lets just say it now Shanghai is awesome. But you need to find the right type of place all the same. The main types of buildings in Shanghai are:
Lane Houses
Lane houses are old building usually built around the 1920's. They usually consist of three stories but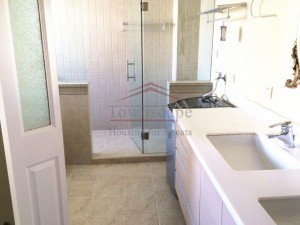 sometimes four. Personally I love lane houses and they are becoming more and more fashionable. Lane houses quality can vary but the price of one is probably around 35,000 rmb per month. These buildings have character and are very unique. Some are classically decorated and some are ultra modern. But one consideration is if you have children lane houses will often not have ample space or outdoor play area. Check out these Lane Houses for rent in Shanghai.
New Apartments
New Apartments are pretty easy to describe they are apartments. New Apartments in Shanghai are often very good quality and very comfortable. Rents can be anywhere from 10,000rmb up to over 50,000rmb depending on location and size. One thing that is not standard in Shanghai is heating so always check if there is heating. Here are some new apartments for rent in Shanghai
Villas
For expats with large families Villas are often the only choice. Offering the comfort of any American or British mansion these are very much in demand among expat families. Villas are often located near International Schools and other expat providers such as supermarkets and entertainment. If you are interested in renting a villa in Shanghai, look no further.
Old Apartments
Old apartments are great value for people who want to be a little different. Often built in the 60s and 70s old apartments are often not as visually appealing as new apartments but are good value. Another issue that sometimes arises is that some old apartment complexes don't have  elevator. HomeofShanghai housing have some old apartments you can view here.
Serviced Apartments
Serviced apartments are half way between a new apartment and a hotel. They often have great facilities like any hotel. Here are some serviced apartments in Shanghai for you to browse.
HomeofShanghai Housing
HomeofShanghai housing Shanghai is dedicated to making expats feel at home in Shanghai. They have a full 24/7 after care service so whether you need a Villa for your family or a Penthouse Pad to relax after a hard day on the trading floor they have you covered.
Please fill out this contact form to get in touch with us – we can find a great apartment for you as we cover around 97 % of the totalt real estate market in Shanghai.