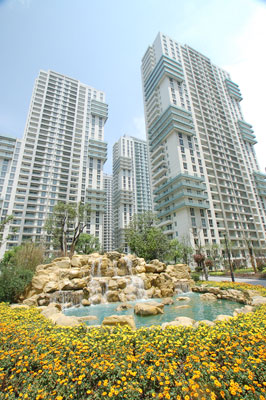 The Summit is a great service apartment compound in the former French Concession. It contains of a total of 360 apartments within tall buildings that are surrounded by green areas. A perfect location for expats who want to live a luxurious life in the French Concession in Shanghai.
Facilities
In addition to a great location and nice modern apartments, The summit also has:
– 24-hour security and management service
– A big indoor swimming pool that can be used by everyone who lives in the compound
– Children´s playground (in fact, The Summit is one of the most family friendly compounds in French Concession)
– Satellite TV in every apartment
– Gym and fitness center
– Sauna
3, 4 or 5 bedrooms..?
There are three different apartment styles in The Summit:
– 3 bedroom apartments (147-163 sqm)
– 4 bedroom apartments (260 sqm)
– 5 bedroom apartments (320 sqm)
The price range goes from 25,000 yuan and up to 65,000 yuan. The majority of the apartments are 3 bedroom apartments, but there will almost always be some 5 bedroom apartments available. Contact us to hear what kind of apartments that are available in The Summit compound.
Location
The location is very close to what local Shanghainese people would call "the city centre" in Shanghai. It is located on Wulumuqi Lu really close to both the famous Changle Lu and HuaiHai Lu. You could easily walk to the metro station called Jing´an Temple on line number two.
You are not far away from The Bund, Peoples´ Square or Pudong area by subway.
Map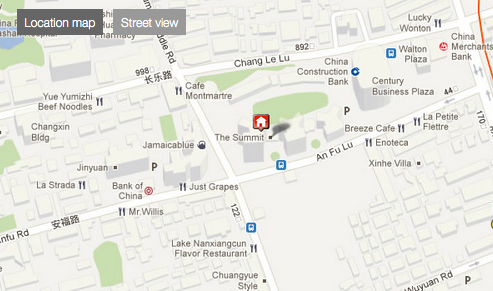 Contact us to get an apartment in this compound