Think Flinders Lane in Melbourne or the back streets of Montmartre in Paris with an oriental twist and you have the French Concession, Shanghai. A unique and beautiful area formerly occupied by the French, that combines tree lined alleys, high-rise malls, tudor mansions, lane houses and luscious parks making the French Concession a true "Paris of the East".
The overhanging trees and parks make this area perfect for a breezy daytime stroll away from the manic bustle of downtown Shanghai. This is a great area to get a little lost following your nose, knowing that a familiar street or subway station is never too far. Boutique shopping at its best down twisting lanes, just a block away from the glossy walls of Gucci and Prada. You are spoiled for choice when it comes to nightlife and can spend a long time exploring and discovering before deciding what is to be your 'local' whether it be a sophisticated cocktail bar or a rowdy pub.
There is something for everyone in this part of town, from bargain deals at little local stalls to 4-figure designer labels and everything in-between. The same can be said for the dining and entertainment options making it a fantastic area to live for highflying executives or apractical family lifestyle. True to its French name, you'll find great cafés, well-dressed ladies on bicycles with baskets, eclectic art galleries and fashion fashion fashion.
Accommodation Options
French Concession is a popular suburb for expats to settle due to its centrality and the beauty and diversity of the area. The main options are renovated old lane houses, modern apartment buildings or spacious villas – you'll have no trouble finding a high quality room to your taste and requirements.
Entertainment
Try the IMAX theatre for your fix of blockbuster films from home, have a tarot reader tell you your future or simply watch the locals play cards in Fuxing park. Window-shopping is also fun given the diversity of shops to be discovered down the labyrinth of lanes. At night get ready to discover… head to a café like
Brick for a glass of vino, a Mediterranean meal and a live piano performance, try 'the Shelter' for cheap drinks and the unique experience of being in a nightclub located on the site of a disused bomb shelter, play retro video games for free while sipping cocktails in the 'arcade' bar, grab a pint and a pub-meal while jamming to Indie rock at 'the Chalet,' grab a fancy cocktail and if you like a tattoo (YES a tattoo) from 'tattoo family' an unusual bar that doubles as a working tattoo parlour or queue for a top notch cocktail from 'el Coctel' one of the trendiest spots for people watching.
IAPM Mall
Arriving at the Shaanxi Road station you are immediately hit with the fashion the French Concession has to offer. A high-end one-stop luxury mega-mall showcasing all the biggest names in international fashion including but by all means not limited to Maje, Stella McCartney, Calvin Klein, Balmain, Vera Wang and Michael Kors as well as sports stores and up and coming designers. Over six floors you can shop until you drop in the latest styles from across the globe. When you need a break (which you will!) there are plenty of dining options tucked between the shops offering fine patisseries and cafés and Haagen Dazs ice-cream as well as more substantial restaurants nourishing you with local cuisine as well as French, Thai, Singapore, Japanese or Mediterranean fare.
Cafés
As always you'll find a local Starbucks, but for once these are outnumbered by more independent cafés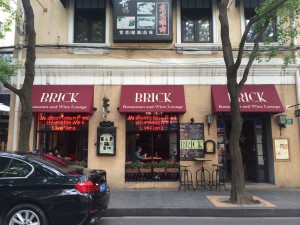 with unique décor and homely feel. You'll find tiny cafés hidden between lane houses serving up delicious pieces of home baking and tea. If you are ready to indulge, 'Hof' is great for dessert, home-made chocolates, wine or speciality iced chocolates in an intimate lounge-like setting. A more vibrant choice is Café Kacao with inviting décor full of cosy corners and couches with a comprehensive menu including colourful American style desserts.
Fuxing Park
This popular European style park is remarkably generous in size given its centrality and is filled with gardens, open spaces, flowers and restaurants – the perfect place to smell the roses and relax after a busy day in the office or at the shops! To become a true local, head to the park early in the morning when the park is filled with dancers, tai chi artists, card players and singing groups. Take a picnic to the courtyard area or just enjoy the peace and quiet.
Art Galleries
An artistic centre, the French Concession is home to an eclectic range of galleries, the tiny and charming 'd'Art' displays local works, while more modern galleries like Art Labor display a 50-50 mix of international and Chinese artists in a upmarket setting.